Suzanne's Chocolate Chip Cookie Giveaway
Enter the Cookie Giveaway by completing the form at the bottom of this page.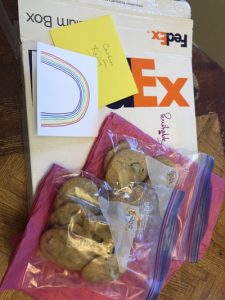 It's been a hectic week at the library so the lovely delivery of a package of chocolate chip cookies on Wednesday was impeccable timing on your part.
At our library we are playing this work "game" where we are documenting how we CARE for our patrons and each other, citing examples. The people I work with are quite extraordinary on a regular basis – so reading through the examples is not surprising, but also very inspiring and humbling to think I'm a part of this staff.
I always like to thank people who go above and beyond their job expectations – so many people do. Making extra effort to connect with the people they are serving… It makes our world a better place. I always try to leave a good review for them, comment to a supervisor, or at least thank them in person.
So thank you for going above and beyond your job. It is helping to make a world a better and kinder place.    –Kelly